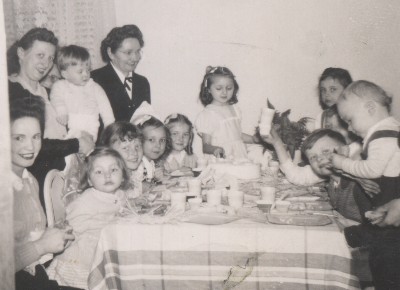 children? Apparently so. Not because they are gloriously well behaved, or can recite the Nicene Creed, or attend church three times a week. No, it is the simple fact of their existence that marks us, their parents, as Christians.
Obviously all Christians don't have large families. But the fact is that in today's culture, when most couples choose to have one or maybe two children, those who choose to have more are almost always followers of Christ.
Early this week at Gabe's new job, he and a co-worker had lunch together and discovered that they had much in common. A., who is not much older than we are, has three kids and a very pregnant wife. Gabe came home that evening and told me that he thought it likely that A. was a Christian, because it is so unusual to find a family of that size and spacing anymore. A few days later, they were talking again and A. mentioned that he had thought the same thing when he found out that Gabe had two children and a pregnant wife!
The number of children we choose to have marks us very visibly as "different". Those of us who are Christians and have thought about this choice recognize the same choice when we see this "difference" in others. I wonder how many others, the people who I pass in the grocery store and who do double takes at the sight of my two toddlers and pregnant belly, pause to consider the reasons for our choices and our difference?
Most of them probably don't. Perhaps having many children is the new equivalent of scratching the icthus in the sand. We see each other and nod and smile and know. But I do think that perhaps, as our society continues down the path of fewer and fewer children, a large family will come more and more to mark us specifically as followers of the man who said "let the little children come to me."