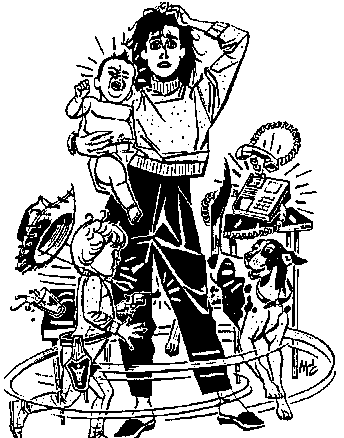 Does anyone else feel like housework, with children underfoot, is a battle that is utterly unable to be won?
I do.
Today I was determined to vacuum the living room. You wouldn't think that this would be such a difficult task, but apparently it is. I think I picked up the floor three or four times today, in an effort to get it cleared and ready to vacuum. Somehow, by the time I got from one end to the other, the front end was a mess again, even when I was trying to involve the kids in the process! Something would come up that needed attention. Or the children who were happily playing outside had to be brought in because the painters arrived. Or it was lunch time. Or a child flipped out and needed discipline. You get the picture. The end result was a mommy in tears, placing both children none-too-gently on couches with books and a few toys, and informing them that they were NOT. TO. MOVE. before the vacuuming was finished. Which tactic actually worked, but made me feel like Tyrant Mom.
Today just hasn't gone very well. The kids have been cranky because, frankly, I haven't been paying as much attention to them as I usually do. I've been trying to do some basic housework that hasn't been done for far too long. Things like vacuuming. And wiping down the bathroom. And sweeping the floors. Things that I used to do on a regular basis without too much trouble. Things that
ought to get done
in order to maintain a basically sanitary living environment! So what IS it that is going wrong?
Objectively, life is very different now from the last time I really felt like I had housework and children balanced and under control. The last time I thought that was, well, right about a week before I got pregnant with Josiah. (This does seem to be a pattern with me, doesn't it? Get life under control and decide that it would be a great time to add pregnancy into the mix!) Now my children are older, and they need nearly constant "policing" so that they don't try to kill each other (how they can go from happily playing together to whacking each other on the head in .002 seconds is beyond me!) Jonathan is at that happy stage of needing me to tell him what to do (and then do it with him) all. day. long. And my poor pregnant body is, quite frankly, so tired that vacuuming the living room gives me contractions for the next twenty minutes and makes me want to lie down for the next twenty
hours
.
Come to think of it, maybe it makes sense that I'd be having trouble with housework and raising kids right now!
I just wish I could figure out an answer, a way to make it all come out right at the end of the day, every day. As it is, some days are pretty good (like yesterday, when we went to the water park and I thoroughly enjoyed myself and my kids) but those are also the days when the house gets ignored. More often than not I do just ignore the house, but it doesn't take much of that to make it an unhappy place to live (at least for me).
There just has to be a better way to do this, right?
Now would be a good time for all you lurking readers to come out of the woodwork and say something encouraging.