I've been (in)conspicuously missing from
Shannon's Works For Me Wednesday
carnivals lately, mostly because I ran out of interesting, bloggable, things that worked for me. At least, I ran out of ones I could think of quickly. :)
But this time I have a GREAT one.
I am usually the least "brand loyal" person around. I will buy the spaghetti sauce that is on sale, with a coupon, doubled. Thank you very much. So when Jonathan was born, I bought the socks that were on sale at Target. And then I tried the socks that were really cheap at Walmart. After that, a basic package at Kohls. Oh, the frustration! Those silly cheap socks weren't worth the money (little though it was) that I paid for them. Either they were too loose and they'd slide right off his kicking little feet, or they were too tight, cut off his circulation, and and left sock band imprints around his tiny ankles.
Then when he was about six months old, someone gave me a belated shower gift that included
BabyGap infant socks
. And it was love. They were soft. They didn't slide off his feet. They didn't leave ugly painful red marks on his ankles. They had anti-slip grips on the bottom. They were perfect.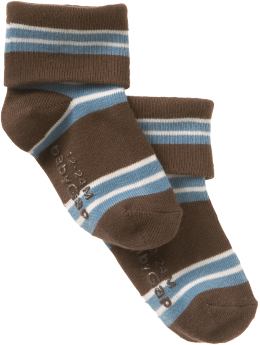 They are $2 EACH, and I have to make a special trip to the mall to get them, but we haven't bought our socks anywhere else since.